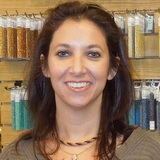 Debbie's Message. . .
This is our
BeadEverything website
in New York. We're always looking for fun, new beads and designs, and we always try to provide the best customer service. Please let us know what you're looking for - we'll do our best to find it.

WE ARE NOW OPEN EVERY DAY!
MONDAY THROUGH SATURDAY 11am -6pm
SUNDAYS 12-5pm. Our next closing will be for Memorial Day.
One New Thing. . .
Happy MAY! EMERALDS were a favorite of Cleopatra, are they your favorites, too? All our emeralds are 20% off this month. (We have lots more than what is pictured here).
---
Bead Everything and design stuff (B.E.A.D.S) opened in 2016, a completely new bead store in White Plains, bringing you the best in beading. We have plenty of
convenient parking
thanks to a new Municipal parking garage on the corner.
Our
friendly, knowledgeable staff
are here to answer your questions. Please come in to use our free work tables and let us help you while you bead.
Or take one of our
jewelry making classes
: We offer everything from introductory stringing and wire wrapping to beadweaving, and advanced project classes. Take a look at our
class schedule
.
BeadEverything is the best source in Westchester County for all your
beading needs
: with wholesale semi-precious stones, Miyuki and Toho seedbeads, Southwest turquoise, fresh water pearls, Swarovski, cabochons, buttons, lamp work, fire polish, Czech glass, ethnic beads, Pandora-style beads, precious and base metal chain/wire/findings, stringing, tools and more.
Join our mailing list to receive information on new classes, trunk shows, special sales and promotions and "
What's New.
"

We send occasional emails about classes, new inventory, special sales or trunk shows. And it's easy to unsubscribe at any time.
---
Current Headlines. . .
Zoom link for Arun's memorial MAY 22 At 1:30 pm:
https://us06web.zoom.us/j/84265022178
(copy & paste into your browser. Passcode 893358). Please let us know if you would like to speak/share during our program.

EVERYONE IS STILL REQUIRED TO WEAR A MASK AT ALL TIMES IN THE SHOP. IF YOU ARE NOT YET VACCINATED PLEASE WEAR AN N95 MASK.. THANK YOU FOR UNDERSTANDING.****

HAPPY MAY! BIRTHSTONE: EMERALD!
Emerald strands are on sale 20% all month.

CALLING ALL JEWELRY FABRICATORS! We have several special guest artists lined up for the year! Check the class listings for all the info:
Kieu Pham Gray (Metalsmithing--Sept.9-11, 2022),
Marti Brown (anodizing niobium & beading June 25-26, 2022), and
Suli Girardi (Precious Metal Clay-- August 2022)! ALL THESE CLASSES ARE NOW POSTED, check the classes tab for all the details.

For the safety and security of all who enter our shop, please continue to wear a mask even if you are fully vaccinated, and everyone must sanitize their hands upon entry. Thank you for being considerate of others! (All of our staff are fully vaccinated.)

Also please note we are not hosting any parties at this time due to Covid, but we hope to resume that very soon!
Pretty Projects. . .
Debbie's Thoughts. . .
DIAMONDS! Many of you now know that I lost my best friend, ARUN SHAH of Bollywood Bead Company in January. He had left some of his gorgeous black diamond strands with me, and his mother has asked that we sell them for her. We have just a few strands left, ranging in price from $1250-$1500. If you'd like to purchase a strand I will finish them off for you with your choice of clasp at no extra charge. All proceeds go directly to his mother.

WE ARE FINALLY ABLE TO HOLD A MEMORIAL FOR ARUN. SUNDAY, MAY 22 @ 1:30 PM. IN PERSON AT THE SHOP, OR ON ZOOM. (Zoom link listed above). Please join us as we celebrate his wonderful existence in our lives, and the beautiful gems he brought us. Refreshments will be served. Please let us know if you would like a time slot to speak.

Please be reassured we are closely monitoring Covid updates daily, and will adjust our class offerings as the situation warrants. All surfaces are sanitized daily, shopping trays are sprayed after each customer, and hand sanitizing is REQUIRED for every person who enters the shop. Proper mask wearing is strictly enforced. Stay safe, everyone!